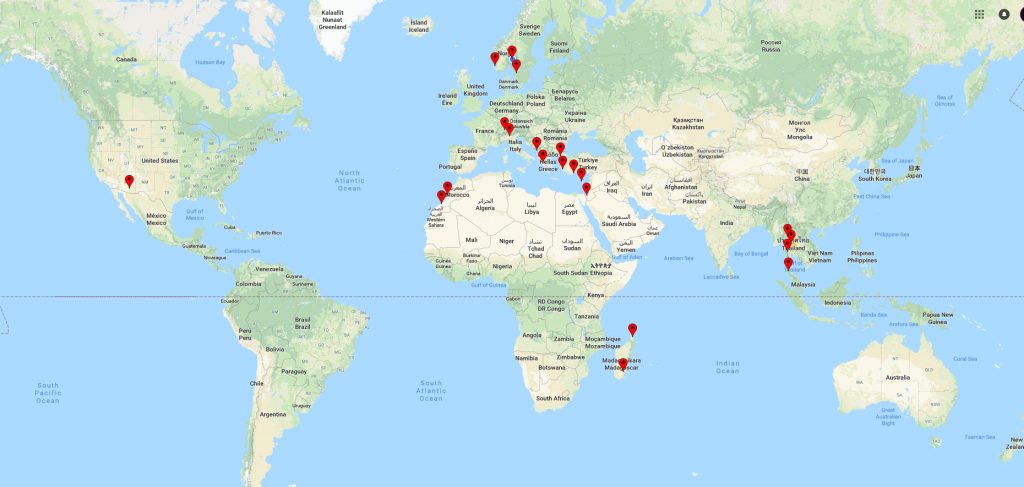 Spain 2021
Spontanous trip in the end of the season looking for all three viper species in the north of Spain.
Israel 2019
A week herping in the deserts of southern Israel looking for vipers and other reptiles
Thailand 2018
10 days looking for Pit Vipers in Thailand. Kaeng Krachan, Kanchanaburi, Khao Yai and Phu Hin Rong Kla
Italy & Switzerland 2018
A trip report from our trip the Italian and Swiss alps looking for vipers in early may 2018
USA 2017
Pictures from our fieldherping trip to Arizona and New Mexico. From 27.august to 06.september 2017
Montenegro 2017
In june 2017 I spent 7 days on the southern coast of Montenegro. The hope was to find the local vipers
Greece 2017
8 days looking for the King of the Ottoman Empire, Montivipera xanthina
Thailand 2016
10 extremely wet days in Thailand, 8 amazing species of pit vipers. It gave me a 1000 smiles
Greece 2016
Early may in north-eastern Greece. The first trip to look for Ottoman Viper
Thailand 2015
A family trip to Thailand, with a couple of days with amazing herping!
Morocco 2015
Around Easter 2015 we travelled to the southern parts of Morocco in the search for the local viper species.
Morocco 2015
A wintertrip to the area around Agadir. Very little activity on the reptiles, but fortunatly some few animals was around.
Cyprus 2014
6 days of family vacation on the island of Cyprus, home of the Levante's Viper
Turkey 2014
In the spring of 2014 we decided to travel to Turkey to look for the Ottoman Viper.
Greece 2012
A week in early spring 2012 was spent in the north-western part of Greece to look for tortoises and vipers
Greece 2011
This was my first attempt to combine herping and a family holiday. For this we travelled to the area around Parga, Greece.
Beyond Beach and Cloudy Waves
A beach is a landform along the coast of an ocean or sea, or the edge of a lake or river. Beaches typically occur in areas along the coast where wave or current action deposits and reworks sediments.